-->
USS VENTURE (MSO 496)
A Salute from my Navy days

(MSO-496)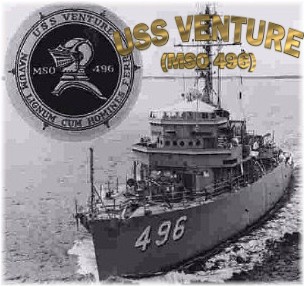 Official Photograph U.S. Navy
enhanced by Al Hines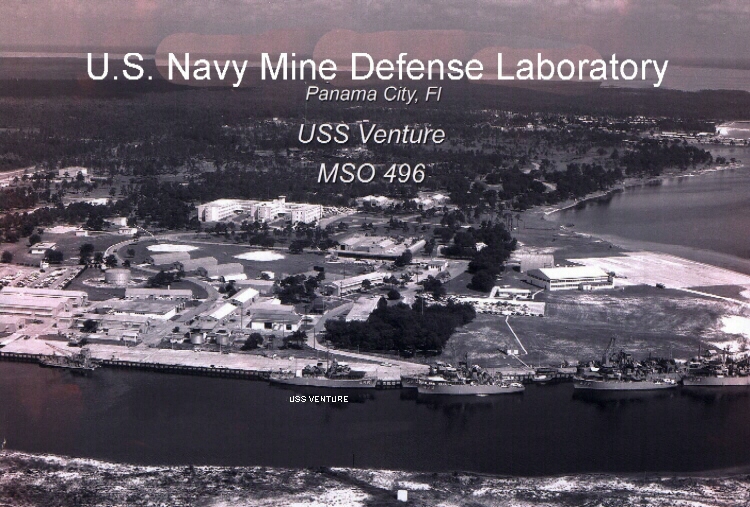 U.S. Navy Mine Defense Laboratory, cira late 1960's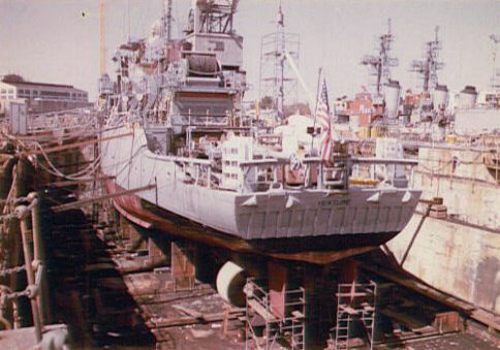 Venture in drydock at Portsmouth, VA, October 1966
Venture was a one-of-a-kind MSO. Pictured here is the Kort nozzles installation around her screws. No other MSO's were so equipped.
Courtesy of Chuck Seward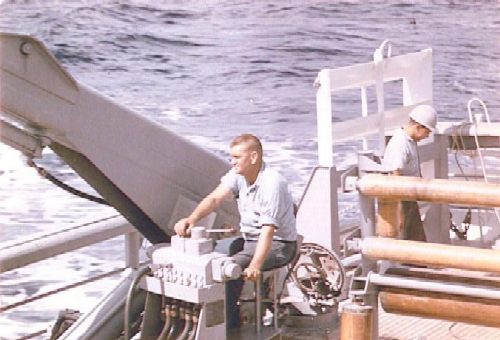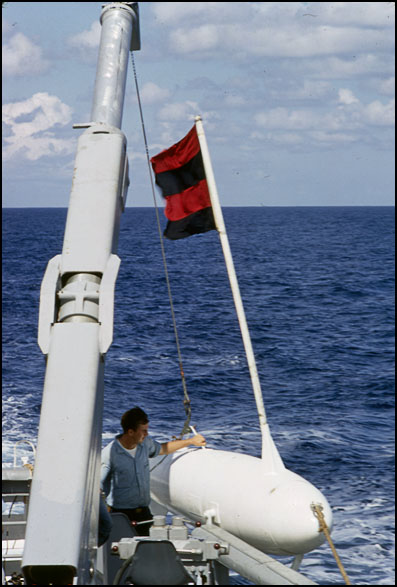 Here is another unique installation. Venture was the only MSO to have two one ton hydraulic cranes installed (in June, 1960) on the fantail for the streaming of minesweep gear.
Originally Austin-Western cranes were installed in 1960 but they were magnetic and non-magnetic stainless steel cranes were later installed in 1966.
(LH)BMC Smith at the controls.
Courtesy of Chuck Seward & Richard Dawson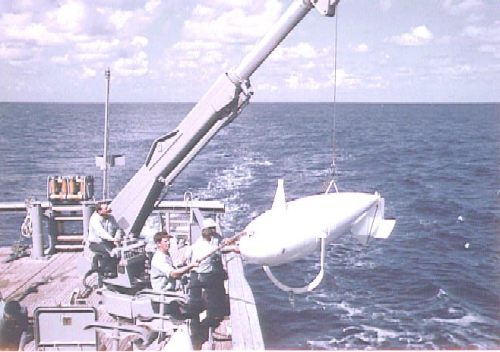 Hydraulic cranes.
BM King at the controls.
Courtesy of Chuck Seward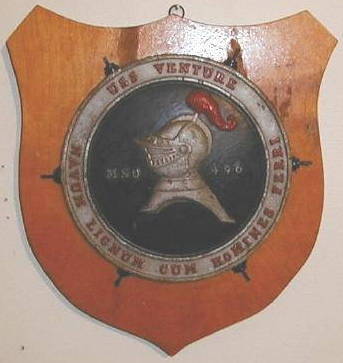 Ocean Going Minesweeper
"Where the Fleet Goes, We've Been!"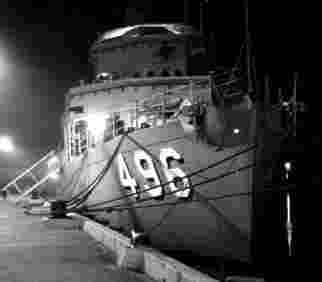 Official Photographs U.S. Navy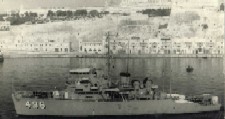 Entering Grand Harbor, Valetta, Malta. 1968 Partial Moderization
Courtesy of Ken Rogers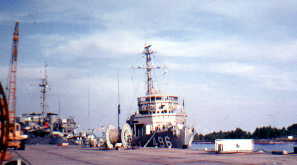 Venture at USNMDL 1968
Courtesy of Ken Rogers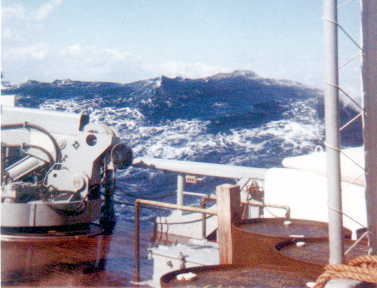 Venture in Rough Seas 1968
Courtesy of Ken Rogers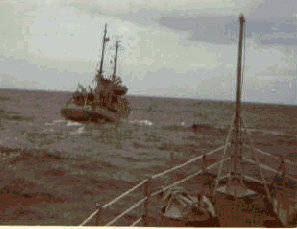 Refueled from Escape(ARS-6) which had joined us at Bermunda for the crossing. The Escape was a sub rescue ship, she trailed a fuel line behind her, then we would come up from behind her to pick it up, then she would begin pumping. 1968
Courtesy of Ken Rogers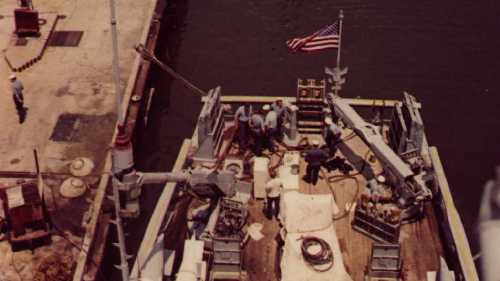 From the mast of Venture while preparing for decommissioning in Charleston.
Courtesy of Tom Mead


From the mast of Venture while preparing for decommissioning in Charleston.
L to R, MSO 430, 429, 50x, 422, ?,?
Courtesy of Tom Mead
Builder
Broward Marine Inc.
Ft. Lauderdale, Fla.
Keel Laid
January 11,1955
Launched
November 27, 1956
Commissioned
February 3, 1958
De-commissioned
August 2, 1971
Sold For Scrapping
February 1, 1978 (R.I.P.)
---
Commanding Officers

V LCDR James H. Agles V 3 Feb 1958 - 1 Feb 1960
Pictures from the era of Captain Agles

V LCDR Richard H. Gaunt V 1 Feb 1960 - 16 Aug 1962

LCDR D. B. Polatty 13 Aug 1962 - 10 Jul 1964

LCDR Donald L Howard 10 Jul 1964 - 3 Feb 1967

V LT/LCDR W. W. Kesterson V 3 Feb 1967 - 9 Jan 1969

LCDR J. A. Chrisman Jr. 9 Jan 1969 - 30 Jul 1970

LCDR D. M. Conwell 30 Jul 1970 - 2 Aug 1971
Pictures from the era of Captain Conwell
Home Ports

Charleston, SC 3 Feb 1958 - 1 Jan 1959

Panama City, FL 1 Jan 1959 - 1 Jan 1971

Charleston, SC 1 Jan 1971 - 2 Aug 1971
---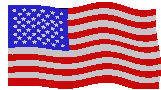 Ship's History
(From Dictionary of American Naval Fighting Ships,
Command Histories 2 and other sources)
The USS VENTURE (MSO-496), an Aggressive Class Minesweeper,
1955 - 1958
Keel laid on January 11, 1955 at Ft. Lauderdale, Fla., by Broward Marine Inc.
Launched on November 27, 1956, sponsored by Mrs. Leroy Williams, wife of the Governor of Florida.
Commissioned on February 3, 1958, LtCmdr. James H. Agles,Commanding Officer. [Note: The Venture was the last Aggressive class U.S. minesweeper to be commissioned.]
Following shakedown training at Guantanamo Bay, Cuba, from March 10, 1958 to April 23, 1958 Venture conducted local minesweeping operations out of Charleston, S.C. until June 23, 1958 at which time she entered the Charleston Naval Shipyard for post-shakedown availability. That repair period lasted until December 1st, 1958 when she began preparations to deploy to the Mediterranean Sea.
Command History 1958
CLICK HERE
1959
Although her home port was changed from Charleston, S.C. to Panama City, Florida January 1st, 1959, the minesweeper embarked upon her first Mediterranean cruise from the former port on January 9, 1959 as the flagship of Mine Division (MinDiv) 81. After a routine tour of duty with the 6th fleet, visiting Italy, Corsica, Sicily, France, Malta, and Spain, Venture returned to Charleston on May 30, 1959 for tender availability at the naval shipyard and normal operations out of Charleston until late summer.
On August 3, 1959, the minesweeper departed Charleston, bound finally for Panama City, Fla., her new home port, arriving on August 9, 1959, and became engaged in routine services to the Navy's Mine Defense Laboratory on various projects, until the end of the year. During this period the VENTURE participated in two assult operations with the U.S. Army Ranger Trainees on Santa Rosa Island of Pensocola and a special commendation was received for the location and salvage operations of a crashed training plane off Pensacola during September. Commendation was received from "The Chief of Naval Air Basic Training">
For the next 12 years, she served the Navy's Mine Defense Laboratory (now called Coastal Systems Station) located there. For the remainder of her career, the minesweeper and her division mates helped that institution to develop mine warfare countermeasures.
Command History 1959
CLICK HERE
1960-1962
VENTURE sailed from Panama City on 3 Feb 1960 for Charleston, S.C. and following arrival on 7 Feb 1960 VENTURE underwent a tender availability and drydocking at Charleston Dry Dock Corp. Sailing again 29 Feb, VENTURE arrived in the Norfolk, VA area 2 March and commenced a regular availability at Norfolk Naval Shipyard. The yard period was completed on 4 May, 1960. After refresher training the ship returned to NNSY for a restricted availability.
Project Shadowgraph: 1
Designated by the Bureau of Ships to support Project Shadowgraph, a new minehunting system, Venture had her configuration altered considerably in June 1960. Two one ton hydraulic cranes were installed on the fantail, as well as other changes accomplished during the availability. That made her a unique MSO. Venture began project Shadowgraph work at the Mine Defense Labatory later in 1960.
The SHADOWGRAPH system was first tried out on the Venture. SHADOWGRAPH was the highest resolution side-scanning sonar ever developed by the US Navy. It was developed and patented in 1954 (not a true patent but a classified patent disclosure) by Dr. Julius Hagemann of the Mine Defense Lab who was a WW II German Scientist who came to work at MDL after the war. The reason SHADOWGRAPH was never put in wide use by the fleet was because the ship had to go over a mine before it could be classified. This was never acceptable to the fleet. SHADOWGRAPH was used on the rivers in Vietnam, however. They were towed by a drone control boat (MSD) so only an unmanned boat had to go over a river mine.3
She resumed Project Shadowgraph work on 14 February 1962 under ComOpTevFor control, sailing from Panama City on 28 May 1962 for Key West for a month of operations. Returning to home port on 11 June 1962, she left again on 2 July 1962 for a project near Yorktown, Virginia and Newport, Rhode Island. Her return on 4 August 1962 to Panama City marked the completion of the project; she once again became an operational unit of the fleet--with a somewhat limited capability, as her modifications made her more or less a "specialist" in her field. The equipment was later demonstrated to NATO allies in 1964 by Agile and Aggressive.

Venture was full of one of a kind equipment. A Destroyer "NC2" System, Kort Nozzels around her propellers to prevent cavatation, but also prevented speed, she could make 11 knots instead of the listed 15 and she was difficult to support overseas.

The remainder of August, September and until 15 October 1962 was for providing services to USNMDL at Panama City. From 15 Oct to 18 Nov 1962, VENTURE was in the Charleston area for operations and and interim docking period at DETYEN'S SHIPYARD, Mt. Pleasant, SC. The ship arrived in Panama City 18 Nov 1962 and her operations were limited to services with the USNMDL until the end of the year.

Command History 1960
CLICK HERE

Command History 1962
CLICK HERE

1963

VENTURE operated out of the USNMDL conducting independent ship exercises, providing services for the Laboratory and a one week upkeep period until 4 March, 1963.

On March 4th VENTURE was ordered to the Key West area to help in conducting the search for the SS MARINE SULPHUR QUEEN, a tanker which disappeared in the "Bermuda Triangle". (The U. S. Navy conducted an underwater search for the vessel's hulk during the period of 20 February through 13 March). The search was terminated on 13 March and she returned to Panama City.

During the period 13 Mar until 11 April, she was in a upkeep status and also provided services the the USNMDL. On 11 April VENTURE sailed for Charleston, S.C. for a tender availability. VENTURE left the Charleston area on 7 May and returned to Panama City where she provided services to the USNMDL until 30 Jun 1963.

On 1 July, she sailed for Lake Charles, LA to entertain the citizens with a open house on the Fourth of July. She returned to Panama City on July 7th and conducted independent ship exercises until 15 July. On 16 July VENTURE has to sail to Mobile, AL for emergency repairs on the starboard propellor by Bender Shipbuilding Co. She returned to Panama City on 22 July, servicing the laboratory and upkeep periods and tender availability until 10 Oct when she sailed for Charleston for the start of the regular two months overhaul at Detyen's Drydocking Co. On 13 December VENTURE conducted post repair sea trials and sailed the next day for Panama City, arriving 18 Dec. She was then in a holiday leave and upkeep status until the end of the year.

Command History 1963
CLICK HERE

1964

VENTURE deployed for Guantanamo Bay, Cuba on Jan 20 for refersher training with liberty at Kingston, Jamaica Feb 14-17th and returned to Panama City on Feb 21, 1964.

On May 14 she traveled to Tampa, FL for an open house and returned to PC on the 19th.

On October 26th she sailed for Tampico, Mexico for a visit and returned to PC on on November 7th 1964. Other time periods thruout the year were spent servicing the USNMDL, on upkeep and independent ship excersizes.

Command History 1964
CLICK HERE

1965

On Feb 14th she left for Bender Shipyard in Mobile, AL for intermine docking returning on Feb 28 1965.

On March 31st VENTURE got underway for Guantanamo Bay, Cuba, spending a week on Windward Passage Patrol and completeing the cruise with 3 day liberty at Ocho Rios, Jamaica and returned onApril 21, 1965

VENTURE held open house at the USNMDL on May 15 for Armed Forces Day and on July 4th for Independance Day. On June 14 she got underway and during June, August, and December 1965, Venture was engaged at Fort Lauderdale and Key West, FL in a special Bureau of Ships acoustic-silencing project. She entered Jacksonville Shipyard at Charleston on 1 September and remained through the middle of November to receive a prototype FRAM conversion to her fantail and minesweeping equipment; this restored to her a full minesweeping capability.1

When not operating under the auspices of the laboratory, she performed mine warfare training exercised under the direction of the Commander, Mine Squadron (MinRon) 8. In addition, she periodically provided services in support of research and developmental work carried on by the Operational Test and Evaluation Force - frequently in conjunction with the Naval Mine Defense Laboratory and by the Naval Ships Research and Development Center (a.k.a. David Taylor Model Basin) at Carderock, Md.

Command History 1965
CLICK HERE

1966

On 7 February 1966 Venture began a evaluation of the FRAM (Fleet Rehabilitation and Modernization) prototype conversion on her fantail. 1

On March 7, 1966 she sailed for refresher training at Guantanamo Bay, Cuba, and visited Montego Bay, Jamaica, before returning to Panama City on April 6th, 1966.

Leaving Panama City March 7, 1966 enroute to GITMO for refresher training
Courtesy of Richard Dawson
She sailed from Panama City on 29 August 1966 for the Naval Ordnance Laboratory Test Facility at Fort Lauderdale. There she was occupied for three days in the BuShips MSO silencing project for the David Taylor Model Basin. She next traveled on 2 September 1966 to Fort Story, Virginia for further testing before her arrival at Norfolk Naval Shipyard six days later for installation of Kort Nozzles. Venture returned to nearby Little Creek on 7 October 1966 for sea trials and additional testing at Fort Story. She departed on 13 October 1966 for Fort Lauderdale for three more weeks of testing and evaluation of the MSO-silencing project before departing to Panama City on 4 November 1966. 1
I was on Venture during this time, I remember being in "a" shipyard for the installation of the nozzles (I could not remember where), I have no memory of any mention of "Fort Story", "David Taylor Model Basin", any silencing project or even the FRAM conversion on her fantail in February 1966. So much for my memory :>). I do remember Gitmo and Montego Bay though. Dick Lewis
Command History 1966
CLICK HERE
1967-1968
Commencing March 8th VENTURE, in company with the USS VITAL (MSO-474), engaged in a search for a downed Coast Guard patrol plane in Apalachee Bay. The search was completed on March 18 and VENTURE returned to PC.
Venture entered the Norfolk Naval Shipyard on 28 Jun 1967 for about nine months (to mid 1968) for a major overhaul and conversion, consisting of installation of AN/SQQ-14 sonar, precise navigation system, CIC/communications alterations and removal of her 40MM gun. CIC, the radioroom,and the Wardroom had limited air conditioning.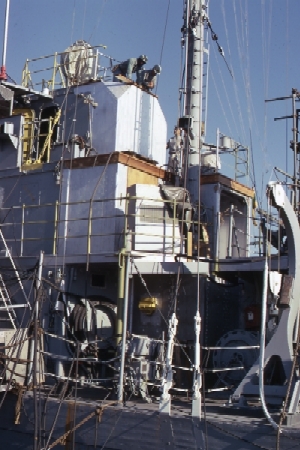 New superstructure in white.
Picture courtesy of Richard Dawson
Commentary by Richard Dawson on the Overhaul:
More than you ever wanted to know about the Venture overhaul:
We arrived in the shipyard for a three month overhaul that stretched to almost 10 months. The crew was moved to quarters on the base and also fed ashore. I should say at the outset that the Force Material Officer (?) said after a visit about halfway through our stay, that the Venture was the cleanest ship he had ever seen undergoing overhaul in his entire career. It is a real testament to the pride that the crew had in Venture. It was a long and difficult overhaul and they all did an outstanding job.
Starting from the flying bridge:
1) The Chief and I were able to get a work order through that allowed us to redesign the overhead for the flying bridge. Essentially the windows surrounding the bridge were tilted outward and were raised inwards to open. The rest of the overhaul was planned and executed by the yard.
2) The radio shack was altered and on-line encryption gear and newer radio gear installed. The plans had been to not air condition the space. We tried repeatedly to explain that the operating temperatures would be exceeded and it wasn't until all of the gear stopped working that they installed air conditioning.
3) CIC received a Sperry-Rand (?) computer to control and guide the ship through a minefield. An early attempt at a GPS type of control. The system was dependent on a system of ranging on known targets. The computer had an impressive array of flashing lights which resembled an early Star Trek episode. I was aboard only briefly while it was initially being tested.
4) The wardroom received a small stand alone air conditioner.
5) The galley was completely stripped back to the bulkheads, and the resident cockroaches evicted. They redid the deck and insulation and rebuilt the galley. I don't believe that any major modification, other than the deck replacement, was done.
6) The sonar installation was the main reason for the overhaul. To that end, the forward berthing area was stripped and a giant box that allowed the unit to be raised free of the water and worked on was installed. This required alterations to the accommodations, but I can't recall exactly what the differences were.
7) The aft sweep cranes were static tested and underwent some repairs, but as I recall nothing major was done. I believe initially the cranes blew some hoses while being tested, but that may be a faulty memory. I remember we had a fair amount of trouble with the hydraulics for the cranes.
8) The Kort nozzles were inspected and cleaned. The nozzles were designed to allow a stream of air bubbles to mask the noise of the propellers. They were seldom used and were easily blocked by various types of marine growth. To my un-tutored eye all they did was slow the Venture down by removing 6 inches from the tips of the propellers and reduce maneuverability by hanging two barn doors, in the form of the nozzles side profiles, off the stern. The Commanding Officer complained that the speed and particularly the maneuverability of Venture were severely compromised when compared to the performance prior to the alterations.
9) The 40mm was removed and no armament replaced it. We were dependent on 50 caliber machine guns for our protection, and to blow up mines.
Commentary by Jim Jackson, IC1:
What we did was down below the forward berthing compartment they cut a hole clear threw the bottom of the ship. They installed a winch that had 110ft of one way chain on it. A new mark 19 gyrocompass was installed. The idea was that they could lower the sonar transducer down 110 ft. That would put it below some of the thermal layers and they could get a better picture of the bottom looking for mines. The gyro was for better accuracy. There theory was that with good sonar, gyro, ships radar and pitlog information being feed into the new computer they could make a tape and then use that to steer other ships threw the minefield that we had swept. We had also installed new Polaris stands.
Air conditioned the CIC room that had the computer installed. There was a NC2 prototype plotting table installed. I worked with the design engineer on it before it was installed on board. I never got to see it work. Later, it never did work and they removed most of the equipment. They left the gyro, sonar and the plotting table.
Now for the AC of the ship. I was the one working on it. I had mounted units in berthing compartments and mess hall. There was also one in Officer country. The water condenser was installed in the mess hall. I had some leaks in the system and never got it up and running before leavening the ship. They got it somewhat working at a tender repair.
Command History 1967
CLICK HERE
1969
Early in 1969, however, she did clear the Panama City area for a tour of duty overseas. Between January 10th and June 16, 1969, she made her second and last deployment to the Mediterranean Sea (6th Fleet) - almost a decade to the day after she begun her first Mediterranean mission. Visits to Bermuda; Ponta Del Gada, Azores; Gibraltar; Valletta, Malta; Athens, Greece; Augusta, Sicily; La Speziz, Italy; Naples, Italy; and Rota, Spain.
On 22 April VENTURE, in company with USS VITAL (MSO-474) sailed from Rota, Spain for special operations which involved port visits to Ostende, Belgium and Chatham, England, returning to Rota on 25 May, 1969. We were invited to Ostende, Beligum by their navy and a number of the crew got to go to Paris for a weekend as their guest
On the way to the Med. we refueled at Key West, Bermuda, the Azores then Gibraltar. We also refueled once between Bermunda and the Azores from ARS-6 Escape which had joined us at Bermunda for the crossing. The Escape was a sub rescue ship, she trail a fuel line behind her then we would come up behind her to pick it up then she would begin pumping. It took us twenty-eight days to make it. We beat Columbus's time by four days. We also ran into two full gales on the way over and in one case took a fifty-six degree roll. In the shipyard it was told that they were putting weight in down by the keel so we could take heavier rolls.
Back in Panama City by mid June 1969, the minesweeper resumed duty assisting in the development of mine countermeasures.
Command History 1969
CLICK HERE
1970
On Jan 21st VENTURE steamed to Charleston, SC and off loaded vital equipment to minecraft support group and then proceeded to Jacksonville Shipyards, arriving Jan 28th. She spent the next few months undergoing routine overhaul, including dry docking and overhaul of various major shipboard equipment. After four months of overhaul she departed the shipyard on Jun 1st for Charleston, SC and then on Sept 2 back to Panama City.
During the latter part of 1970, VENTURE was given new life when de-activation was posponed so that MidDiv 81 could continue as an operating unit. The last few months were busy as VENTURE worked hard to return to a state of full operational readiness.
Command History 1970
CLICK HERE
1971
VENTURE officially changed homeports from Panama City, FL to Charleston, SC on Jan 1, 1971.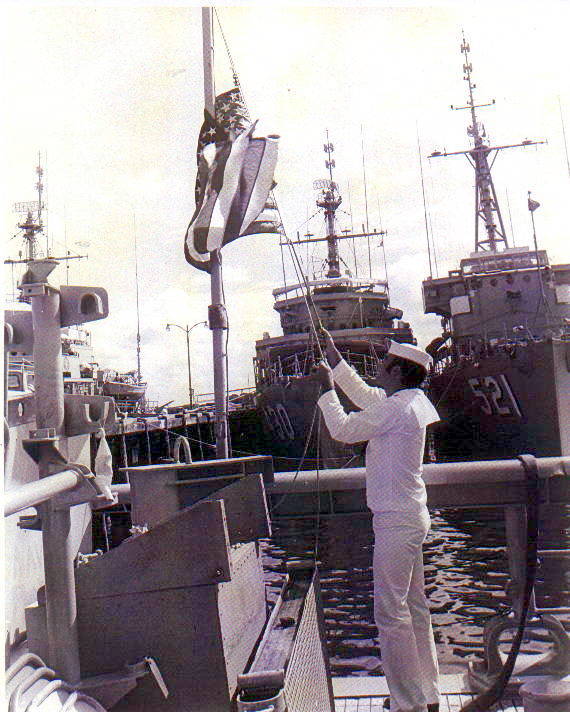 Just before she began inactivation preparations, in late March, she became flagship of MinDiv 21 when the Atlantic Fleet Mine Force was reorganized; and MinDiv 81 was transformed into MinDiv 21. Venture began preparations for her inactivation on May 3, 1971 at Charleston.
She was de-commissioned there on August 2, 1971 and, on November 10, 1971 was berthed with the Norfolk Group, Atlantic Reserve Fleet at Hampton Roads, Va.
Command History 1971
CLICK HERE
1977-1978
In September 1977, Venture's name was
Struck from the Navy list; and she was slated to be sold for scrap. The USS Venture was
Sold by the Defense Reutilization and Marketing Service(DRMS) on February 1st, 1978 for scrapping to C.B. Herter Jr., Airport Rd., Hopewell, VA.
1 Excerpts from David Bruhn's draft manuscript of his work in process.
2 Ship history was agumented by Command Histories from 1958, 1959 (partial),1960, 1962, 1963, 1964, 1965, 1966, 1967, 1969, 1970, and 1971. The first half of 1959 and the years 1961 and 1968 are missing.
3 Jim Hammond, ASR at Riverside Research Institute, Arlington, Virginia 22209 (Jan, 2003)
---
VENTURE ENGINES
Venture had four 600 HP 12 cylinder Packard main engines, two on each shaft, located in the after engine room . You could use one or two engines per shaft, speed maybe 10-11 knots with two engines and 14-15 down hill with four engines. Sometimes with a calm sea maybe 16 knots but that took lots of coaxing. Packards were pretty good engines but you had to treat them with kid gloves. No quick overhauls or shoddy maintance. Forward engine room contained one 6 cyl.Packard 185 kw , one 12 cyl.Packard 600 hp 300 kw, one 6 cyl 100 kw jimmy and one 4 cyl 60kw jimmy generators. Venture engines were outstanding because they had shock absorbers that took up a lot of the vibration, also the ship didn't have to do as much sweeping as the other sweeps.
B.J. Taylor 1964-1967 EN1
---
Venture Reunion, April 2004
Naval Support Activity
Panama City, Florida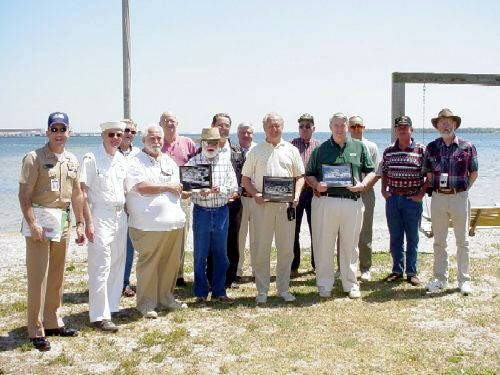 L-R: Perry Suter, Host; Dick Lewis; Harold "Smitty" Smith; Bob Bryan; Jonathan Thompson; Corky Clark; Steve Decker; Dean Warren; Chet Gorgas; B.J. Taylor; Walt Kehoe; Jim Lenga; Bill Trimble; Roger Harrer
Here is a page of 2004 Venture reunion pictures
---
Venture Reunion, April 2009
N. A. S. Pensacola
Pensacola, Florida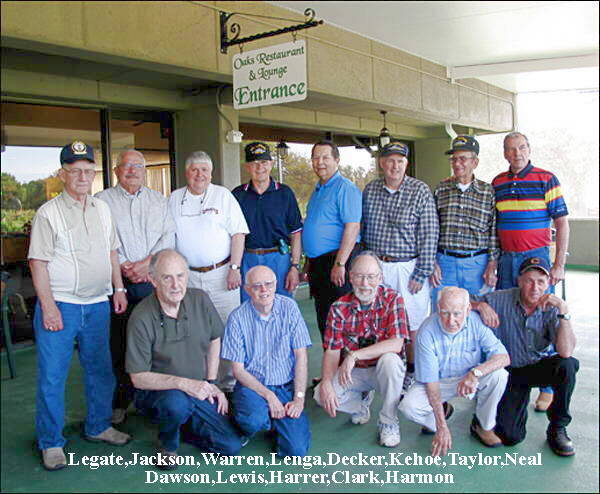 Gary Legate, James Jackson, Dean Warren, James Lenga, Steven Decker, Walter Kehoe, B.J. Taylor, William Neal
Richard Dawson, Richard Lewis, Roger Harrer, Elbert (Corky) Clark, Nathon Harmon
Here is a page of 2009 Venture reunion pictures
---
Here is a list of theVenture Crew in 1966

Church Service; L-R; Thompson, Lenga, Trimble; 1963-1965
Courtesy of Jim Lenga

Gorgas, Harrer, Lenga, Thompson; 1963-1965
Courtesy of Jim Lenga

Standing; EMC Evans, L-R; Gorgas, ENC Hinsley, Lenga, Thompson; 1963-1965
Courtesy of Jim Lenga

L-R; CS1 Payne, Lenga; 1963-1965
Courtesy of Jim Lenga


L-R; BM3 Oldham, Lenga; 1963-1966
Courtesy of Jim Lenga
Here is a list of theVenture Crew on February 1, 1960


---
Date: Tue, 18 Jan 2000
From: KENNETH R ROGERS
When I joined the Venture she was out of drydock. The Venture was tied to a pier with an LPH ( I believe the Guam) behind her, and the pier to the south was the Newport News heavy cruiser.
Re: Moderinization
The quarterdeck was still in the same area as it was for you. There was limited air conditioning, CIC, the radioroom,and the Wardroom had it.
Between January 10th and June 16, 1969, she made her second and last deployment to the 6th Fleet
The crossing to the Med. was something one would never forget. There were times when all that you could see of the other ships was their radar antennas in that the seas were hitting sixty-five foot range. You were always wet, at least those of us on the bridge, you put on your dryest cloths for the day and went from there. We stood normal watchs, frquently the spray would come over the bridge. One time I was on the way up to the bridge from the starboard side from the pilothouse we took a roll and I looked up and there was about a foot of water coming down the ladder from the bridge with me about half way up and boy did I get wet tha time. The passageway to the stern at times had footprints about a foot up the walls on both sides where people had walked as she rolled. As for being beat up on the crossing there were several boards ripped from her sides. When we finally got through we had salt about an eighth inch thick on the main deck from the quarterdeck forward. It was a trip to remember. Coming home was just the other way, nice and easy all the way.
---
102 MSO'S
Here is a list of ALL of the 102 MSO type Minesweepers that were ever Built.
This list is the most comprehensive and accurate list of MSO information on the net.
---
I am looking for past crew members to contact me. Please email me.
Thank you,



Dick Lewis
ex YN3 1966-1967
VENTURE EMAIL contacts:
---
MY NAVY SERVICE
---
Copyright© Dick Lewis.
All rights reserved.
---